Learn the MANY ways to use SMART OBJECTS in Photoshop
Photoshop Foundations:  Smart Objects
For years I avoided Smart Objects and any educational material that revolved around them.  I thought they were too complex and time-consuming to be valuable for photographers.  As with just about everything, time will have its way with you and guide you to wisdom.  More and more frequently I find myself using Smart Objects in my day to day workflow.
While many people think Smart Objects are meant for designers and web layout specialists, there are some great ways we can use them as Photographers.  In this course, we are going to discuss all things Smart Objects and how they can help you, a photographer, in your Photoshop Workflow.  After this brief course, you will be up to speed on Smart Objects and in the end, you will be working a whole lot smarter, not harder 🙂  I just had to say that (my Dad would appreciate that).
What you will learn:
The difference between raster and vector layers
How to use Smart Objects with Adobe Camera Raw
How to properly transform images with Smart Objects
How to create layered album layouts with Smart Object capability
How to put your images on any wall using smart objects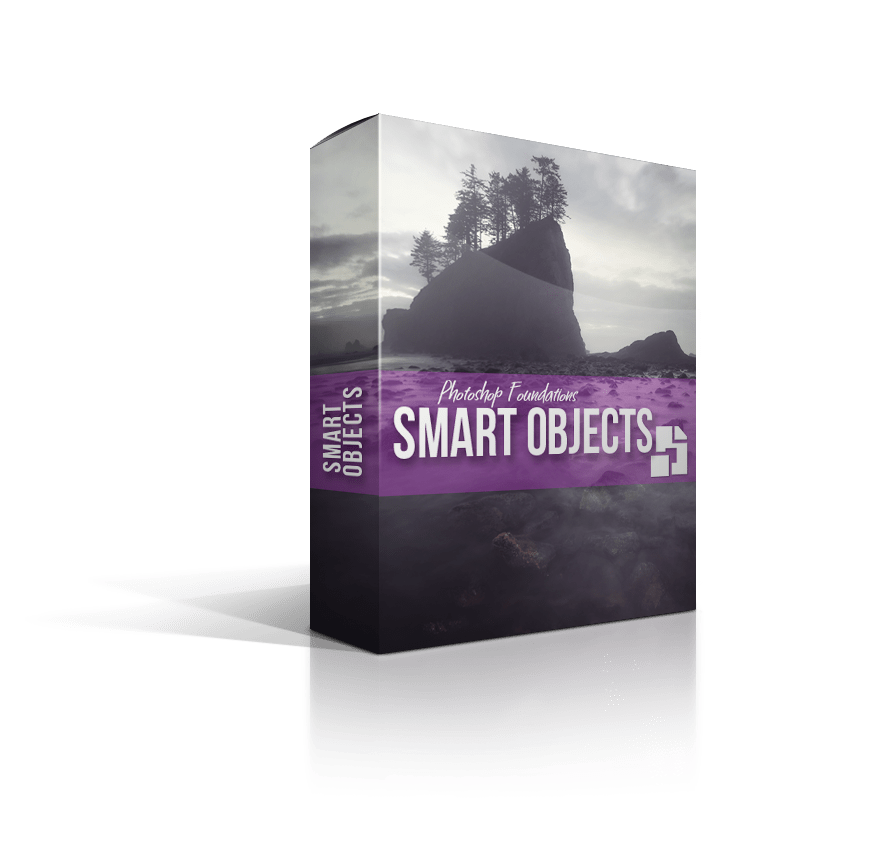 Included in this course:
71 Minutes of formal education and practical application for Smart Objects in Adobe Photoshop©
All follow along images and course resource material
30 pages of documentation
Programs Required:
While the material will use the programs listed below, you may use the concepts in many file management systems for cataloging images.
Adobe Photoshop© CC:  Not included in the purchase of the course.  Some features may not be available in CS6 and CS5
Frequently Asked Questions
---
What is the difference in the pricing structure for this course?
There are two ways to watch this course.
1.  You can pay one flat rate and download the course to your computer.  With this option, you own it and can download it to your iPod/Pads or any personal device for that matter and watch the tutorial anywhere at any time.
2.  You can become a member of f.64 Elite and stream the course for free.  As an f.64 Elite member, you have access to critique sessions, a community forum, monthly photo challenges, and discounts on all of Blake's products.  Monthly Memberships are subject to a monthly fee, and the content on the site is only available for streaming.
If I become a member can I quit at any time?
Absolutely!
F.64 Elite Memberships are paid for monthly, but there are no annual contracts.  You pay for each month as you go and may cancel at any time without penalties.
Does this course come with everything I need to follow along?
Yes!
Blake includes all of his follow along images, actions, presets, PDF's (if applicable) and or extras.  Some lessons have actions and images, some just images, others a PDF and some do not have any extras (usually the introduction and conclusion videos).  Everything you need to follow along is included in the course purchase.
Programs, Plugins, and Software Applications are not included.  For example, if this is a Photoshop course, Photoshop is not included in your purchase.
Download Now
No Subscription Required
One purchase and you are free to download and get started with no monthly or recurring fees.

Hours of course content in the membership area

Members only Critique Sessions

Monthly Photo Challenges

Hop in the Community Forum

Members only Live Event Replays

Over 200 hours of Archived Video Content
Stream It
Members can stream it with their subscription