A rock-solid WORKFLOW that makes impactful Black & White images in minutes!
 
While it seems so simple, monochrome processing is pretty complex, but it doesn't have to be!
You can make more meaningful Black and White photographs that evoke mood and emotion within your viewer.

What IP² NOIR Will Do For You!
"You really did it!!!!!!!!!!  

This system is incredible for B&W conversion.  WOW!!  Am I happy.  Thank you."
"The first word that came to mind about the course and profiles was sublime. To get the most out of this, watch the training and practice. You will be very pleased with the results. You will also feel more confident in your processing. Another outstanding product Blake!"
"Blake's Photoshop tools are a game changer for your workflow. The new presets are more quality work by Blake and I highly recommend them."
 The Harsh TRUTH About Black & White Photos 
Have you ever seen a Black and White photograph that was so impactful it left a lasting impression on you?
Have you ever wondered how a monochromatic image could be so powerful yet so simple?  
Have you ever tried to make your own Black and White image packed with emotion, but failed miserably?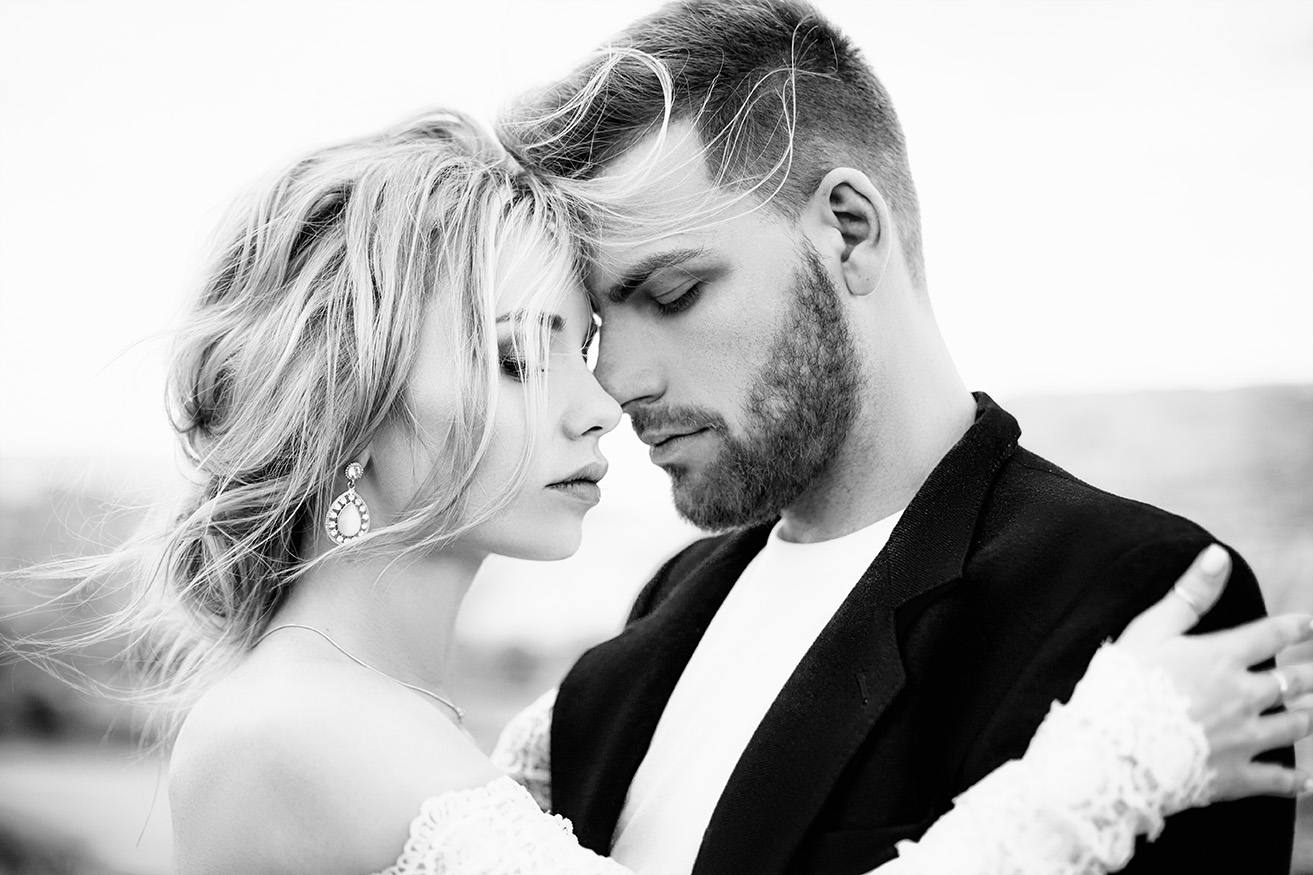 Don't be ashamed. 
Trust me when I say I have been there too and have plenty of failures to match my success.
Look, Black and White processing is not as easy as one would think.  Our expectation is that every conversion we make is going to be packed with feeling through clever use of tones.  But the reality is often a flat image with no depth and the emotions of a rock. 
It's frustrating, disheartening, and soul crushing when a very important photo doesn't have the feeling in it that we want to convey to our viewer.
The truth is, most of us have never taken the time to analyze why a certain black and white image "works" and assumed it just happens. 
But, I hate to break it to ya… it doesn't "just happen" you have to make it happen and YOU CAN and its not nearly as difficult as you'd think. You just need a process or a system to make it easier!
A proven system for impactful Black & White processing!
The moment I realized that a good Black and White photograph comes from a good color photo, everything changed for me.
I had always heard, "Well if it doesn't look good in color, change it to Black and White"
That horrible advice couldn't be further from the truth!  Color is the most important characteristic of your photo when it comes to creating a monochromatic image.
How could that be?
Isn't a Black and White photograph to be void of color?
While a Black and White photo does not contain color data, it uses the color data to produce the tonal quality of the resulting monochromatic image.
So, if the quality of your color is not good to begin with, guess what? 
Your tones in your monochrome image won't be either!

As I explored this concept, I was able to make predictable decisions for my black and white processing.  I was starting to see how the properties of my colors were transitioning into tonal values that created more mood and emotion in my Black and White images.
 I had developed a system and I can't wait to share it with you!
The Four Simple Parts to the BW Processing System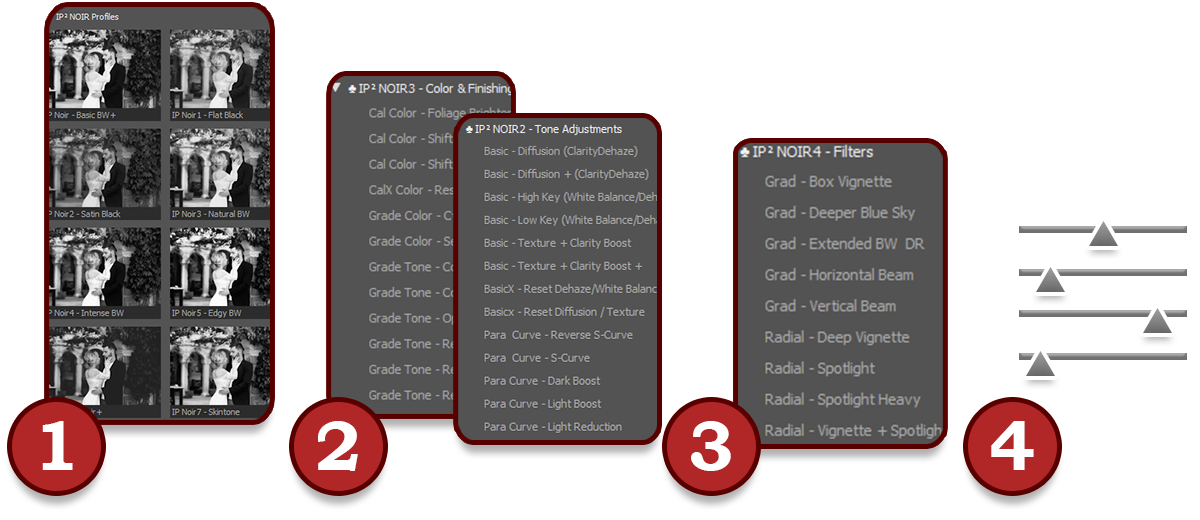 Set the Tone with a Pre-Built RAW Profile
Use the Presets to modify the Look of the tones
Use the Filters to Direct the Viewer's Attention
Adjust the sliders to your needs
IP² NOIR Fits ANYWHERE in
Your Workflow!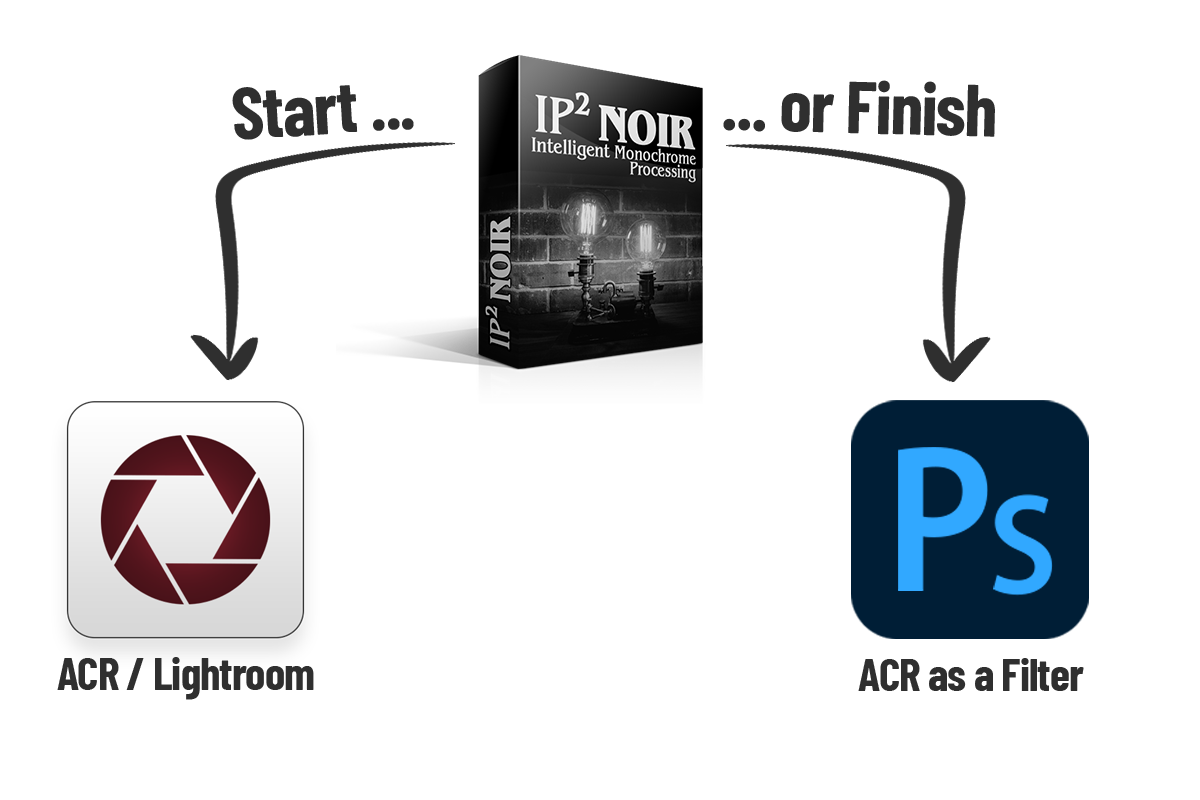 Whether you prefer to process your Black and White images at the beginning of your workflow or at the end in Photoshop, the IP² NOIR Profiles and Presets have you covered!
Using them at the beginning of the workflow you can take full advantage of al that RAW data in your BW conversion process.
Or if you prefer to save your Black & White Conversions until the end, like me, you can use them in ACR as a Filter.
Witness the Possibilities for YOUR BW Work!
All of the images below were created using the Intelligent NOIR Profiles & Presets.  Look at the before Color image combined with its Black and White equivalent.  Then compare it to the Noir version.
The combination of the pre-built profiles and the presets for refinement make it really easy to get professional quality results with very little effort.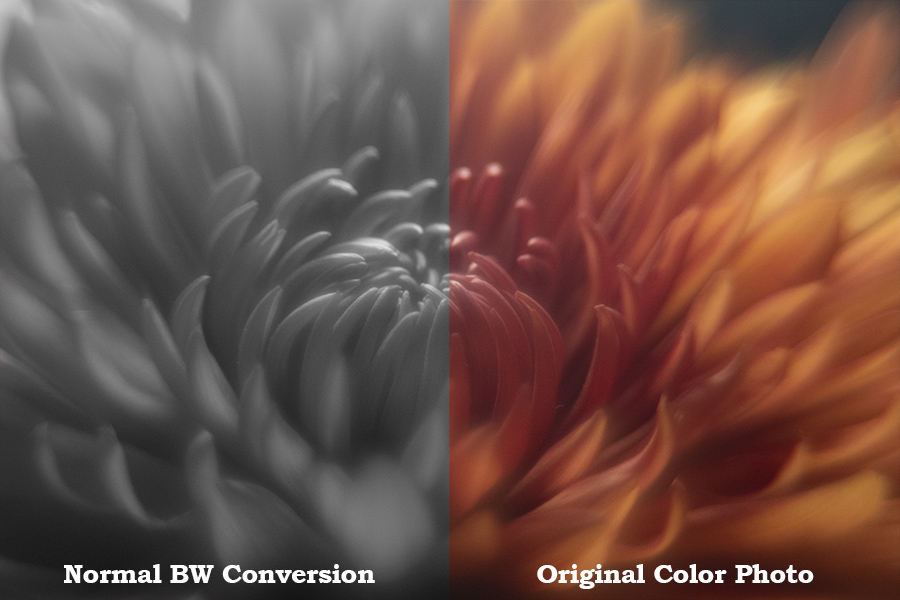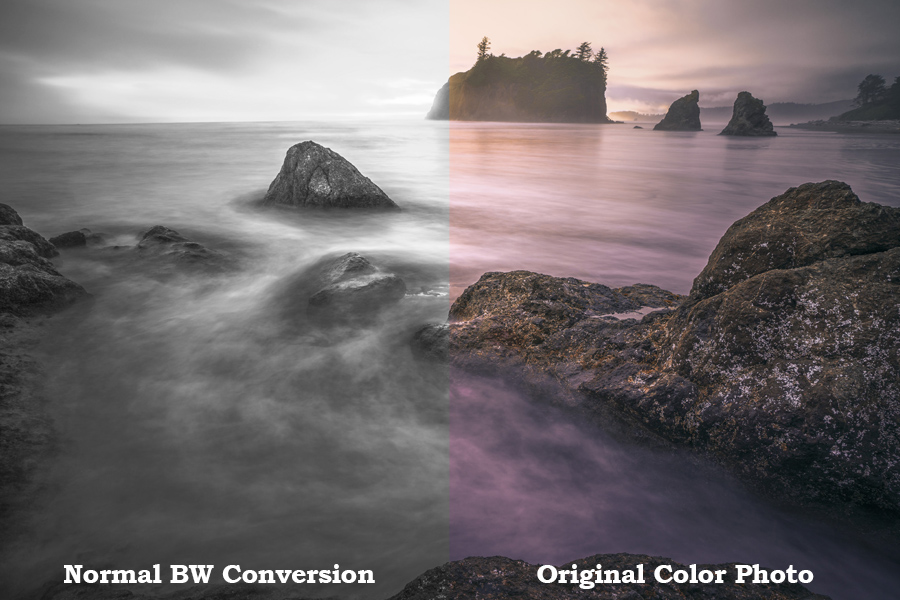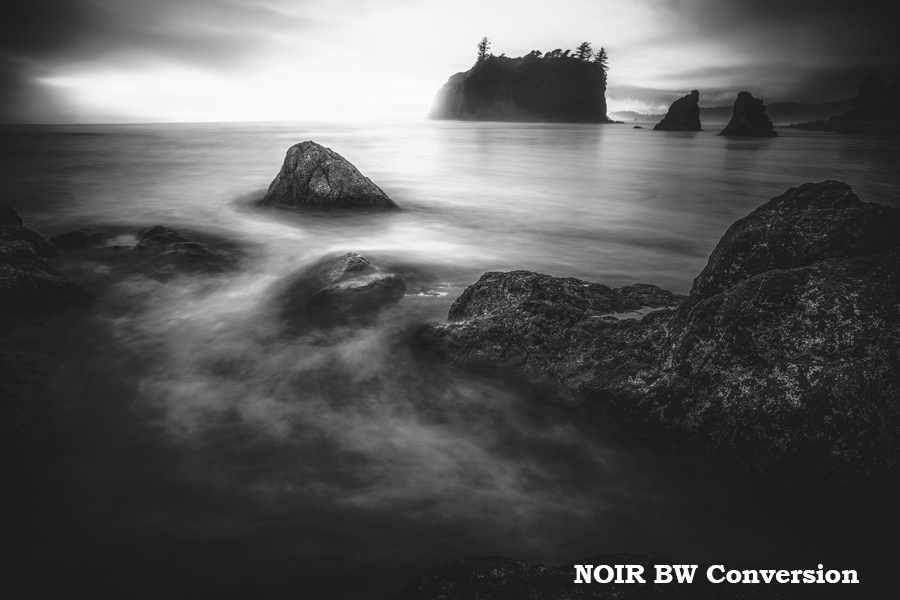 The Mood Your Landscapes Deserve!
There are some places, like Olympic National Park and Yosemite, that scream Black & White.  However, getting that mood into your monochromatic images can be a real challenge.
With the Intelligent Noir profiles and presets, mood is baked into EVERY conversion!
Leave an impression as lasting as the people you photograph with your Black and White processing.  Skin tone present a real problem in the black and white conversion process, IP² Noir has profiles built specifically for preserving skin tones while adding life to your portraits.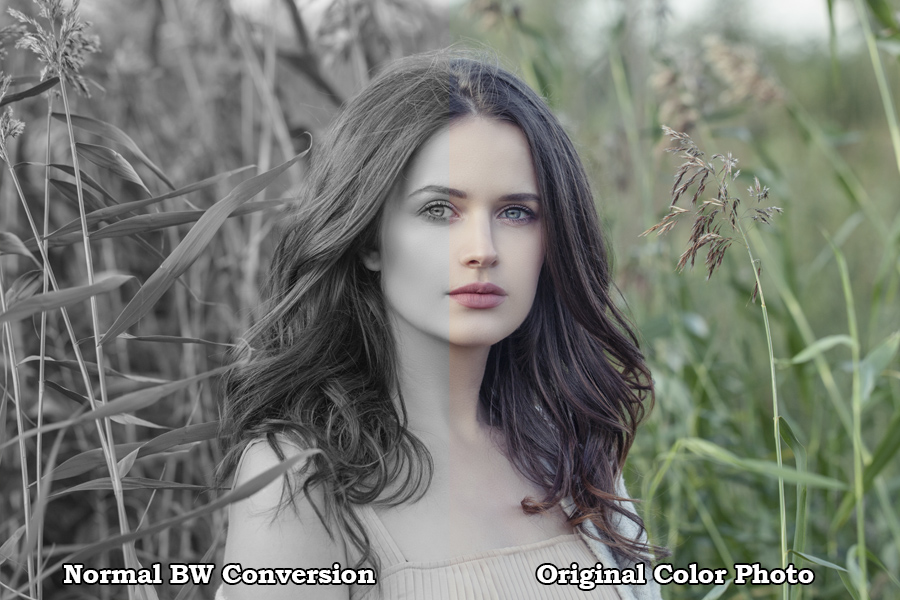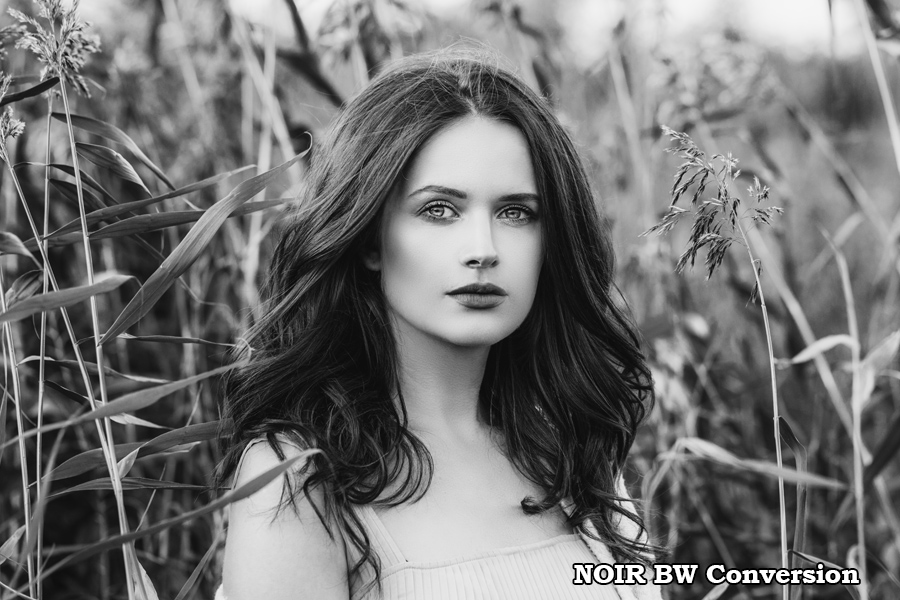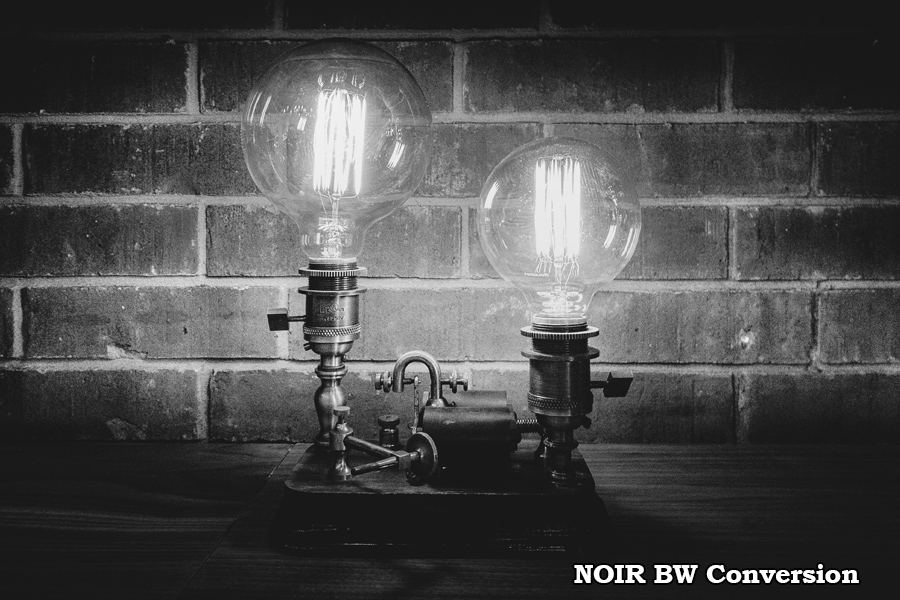 You will learn that good tones come from good color, that's true!  However, light plays a very important role in the overall outcome of your Black and White image.
You will learn how to use the the filters in IP² Noir to direct the viewer's attention.  Whether the light was there to begin with or you needed to add some for dramatic effect 🙂
A Conversion for Every Genre
Every photo of every genre, including wildlife or bird photography, has the potential to fall flat, or be moody and full of emotion.
The steps you take in your process will determine the outcome of your tones.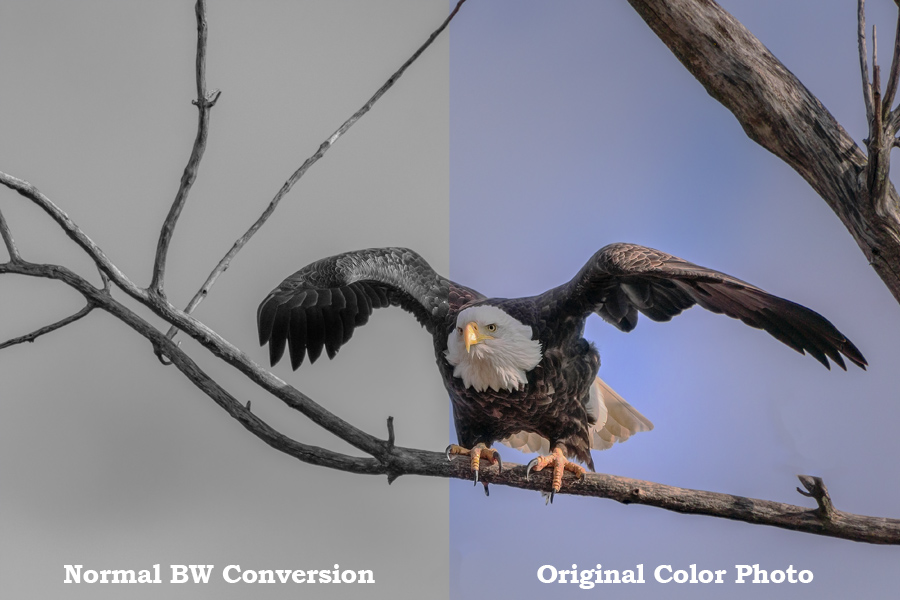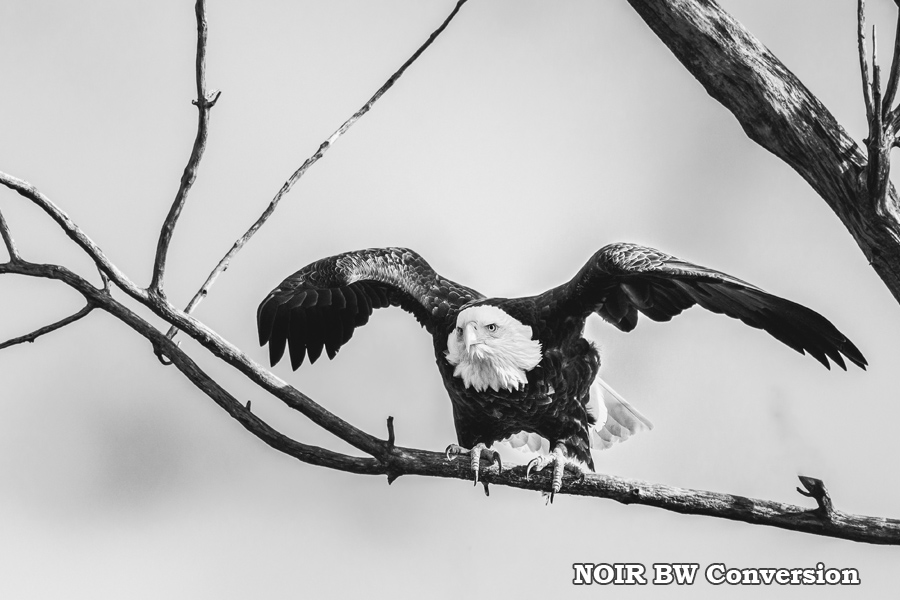 No matter the genre you find yourself photographing, from Wildlife to Street photography or Portrait to Landscape, the Intelligent NOIR profiles and presets are your go-to for making impact with your tones!
What's Included In
The IP² NOIR 
Profiles & Presets
This Intelligent Profile & Preset pack includes one set of hand-crafted profiles and 4 categories of presets: Profile Selection, Tone Refinement, Color & Finishing, and Filters.  
Each category was uniquely crafted to work hand in hand with the Profiles included in the bundle. 
I have done all the hard work for you by whittling this package down to the most effective profiles and presets.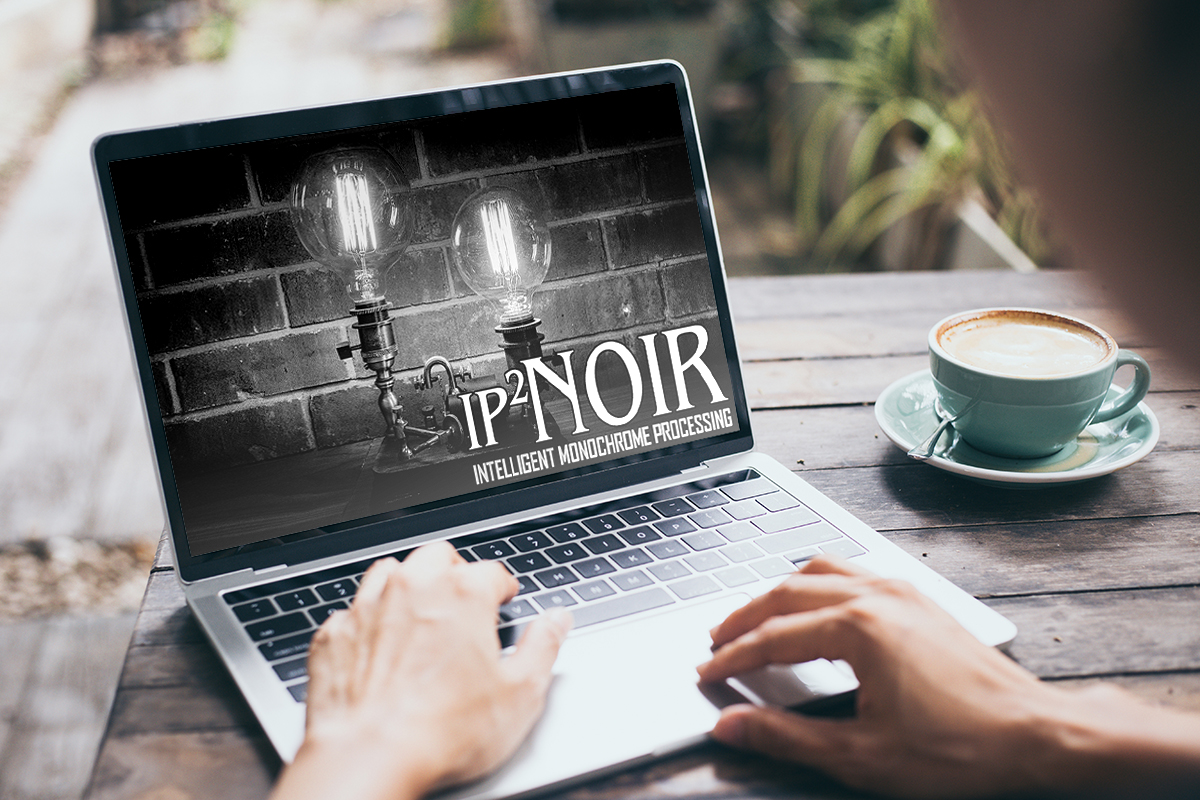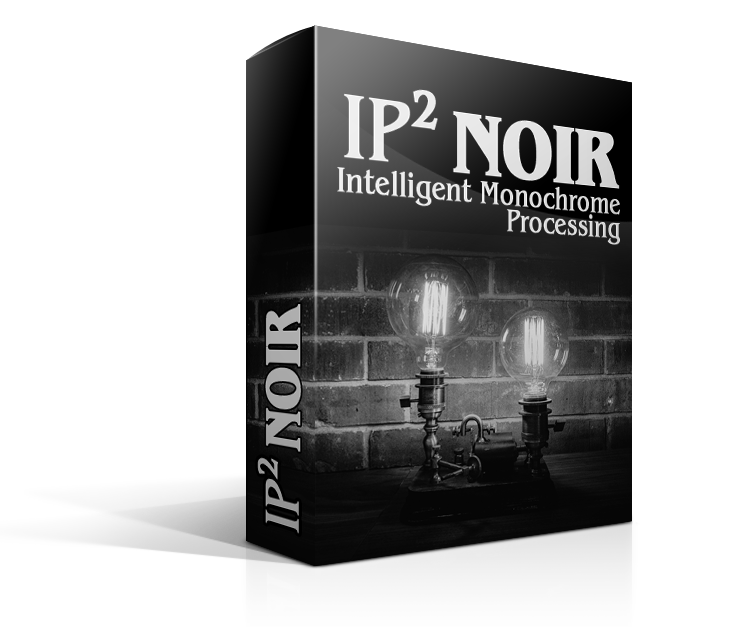 Profiles & Presets & Education
This Package is for those who want it all.  This type of person not only appreciates great tools but also wants to know how they can create their own.  
Why Bother with IP² NOIR?
I've designed this package from the ground up to include everything you need to know about Black and White Processing.
Beginner, or Advanced users, it doesn't matter.  This package is for all skill levels of any photography genre.
And, if you've…
Tried to convert your images to black and white before, and been frustrated with flat tones
…and experimented with lack-luster presets that felt more like snake oil than useful tools… 
… or you've tried to build your own profiles and presets and were less than successful…
Then what I'm about to share with you is going to be a complete game changer.
Because… these profiles & presets will get you the results you are looking for in a fraction of the time it would take to do it yourself!
There is no steep learning curve or convoluted theory, just good old fashioned results!
•Frequently Asked Questions•

Click on the question below for the answer.

What do you know about true Black and White Processing, Blake? You are a digital guy...
Wait a second, before you look at my baby face and think I was too young to process Black and White images in the darkroom, think again 😉
I spent the better part of 1998-2001 shooting analog film and processing my negatives and prints in the darkroom.  I know what it's like to see red for hours and smell like foul chemicals.  And you know what?  I loved every minute of it.
The truth is, I used a lot of those experiences to help me develop the IP² NOIR Profiles and Presets.  The whole time I was making them I was even thinking, "Blake, these photos are looking JUST like analog prints".
I may be a young whippersnapper, but I've had my fair share of darkroom time.  I just prefer the digital world 🙂
What if I already know how to convert a photo to Black and White?
Then you are in great hands!  Funny enough, before creating these profiles and presets I knew how to convert a pretty good black and white image too 😉
The thing is, these profiles and presets create results very fast and also open up new avenues for my monochrome work I may not have considered.
Do I need to change my RAW Workflow to use these presets?
No.  These profiles and presets can be adapted to your current workflow if you already have a good thing going.  However, you may find is that they help speed up your RAW editing process if you adapt to the way these profiles and presets work together.
Blake, you've always told us to do BW processing at the end, right? Why BW Raw Profiles & Presets?
You are correct, I do advocate for a Black and White image to be processed in Photoshop.  That's what makes these profiles and presets so AWESOME!  You can use them two ways:
1.  At the Raw level in your usual RAW workflow as you develop your photo.
2.  As a Filter in Photoshop at the end of your workflow to use them as a finishing effect.  
I use them in both places and regardless of where I use them, I get a GREAT result!
Can I install these presets on multiple computers?
Yes!  You may install these presets on as many computers or laptops that you own.
Are these for Adobe Camera Raw and Lightroom?
Yes, these presets were made for both Adobe Camera Raw, Lightroom Classic, and Lightroom CC.  Once you install them in Lightroom they will appear in Adobe Camera Raw (or vice versa)
So, whether you use ACR or Lightroom, it doesn't necessarily matter.  They will work in your favorite ©Adobe Raw Processor.
***These presets were designed for the latest CC versions of ACR and Lightroom.  I do not support versions of Photoshop and Lightroom before CC***
Do these presets erase the settings of my image?
Yes and No.
Since Raw data can only have one instance of a given slider at a time, these presets and profiles will modify the work of the image you use them on.  If you open a RAW file you have already done a lot of work to and you want to save it, I recommend using a snapshot to save your progress before you start using these Profiles and Presets.  The beauty of a snapshot is that after you make other modification you can quickly look at them side by side..
Can I edit the effect of the preset?
Absolutely!
Let's say you put a Curve on your photo from the Tone Refinement Category and you like it but you think its too strong.   You can always go into the Color Grade settings and make minor adjustments to your liking.
Can I edit the effect of the profiles?
Unfortunately, no.
These profiles were developed from LUT's and therefore these profiles cannot be modified.  Profiles, by their nature are not like Presets, there are no sliders really, just one big modification file that rests on the top of all your work. Think of them like a baked cookie vs cookie dough.  A Preset is like cookie dough in that you can modify the batter, but a profile is already baked and ready to eat.
However, I will teach you how to make YOUR OWN BW Profiles so you can experiment with different monochrome looks that you may already enjoy.
Can I use these profiles and presets on JPEGs?
You certainly may.  You may also use them in Adobe Camera Raw as a Filter within Photoshop.
When using them this way, some presets may appear greyed out, but that only means that the preset may only partially work as some of the features that are in them are specific to RAW files.  The preset will still work even though parts of it may be missing.
This is not a fault of the preset at the time of recording, this is how Photoshop handles JPEG files with presets made for Raw Files.
A proven system for creating epic Black & White photos with mood, emotion, and impact is waiting for you!
IP² - NOIR Profiles & Presets
Next-Level Monochrome Processing
✔ 16 Profiles
✔ 75 Presets
✔ Installation Instructions
✔ Follow Along Images
✔ 85 Pages of Documentation
✔ 10 Profile and Preset Videos

✔

5 Bonus: Black and White Processing Videos

✔ 

161 Minutes of Unique Education
See What IP² NOIR Users Are Saying
Are you ready to take your Monochrome photos to the next level?
Are you ready to finally look back at your Black and White images… and say… "wow, that captures my attention!"
Are you ready to get access to a simple, step-by-step BW conversion process that not only speeds up your workflow but produces brilliant works of art in the process? 
And, are you ready to equip your toolbox with cutting edge RAW editing techniques?
Then you'll want to grab the Intelligent NOIR Profiles & Presets.
The way I see it, you have two choices.
You can click away from this page… and hope to figure out how to create compelling Black and White photos.
But with Black and White conversions being so complicated, learning all this yourself will take a lot of time. You could try to follow videos on YouTube, but I know for a fact no one is teaching Black and White processing at this level with these techniques.
Or… 
You could invest in my Intelligent NOIR Profiles & Presets and see what it's like to use Presets and Profiles that were designed specifically for creating incredible monochromatic images.
You'll see how powerful these techniques are in your workflow and discover things you never dreamt were possible for your Black and White images!
Sound good? Then just click the button below and get instant access… 
I look forward to seeing what you produce,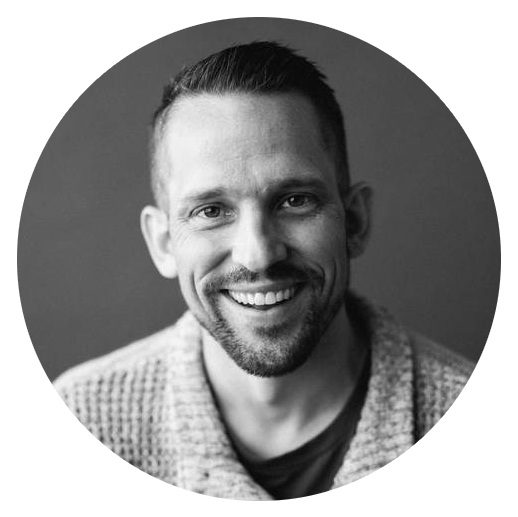 Hello, I'm Blake Rudis, and I'm what you'd call a Photoshop fanatic. All my life, I've been trying to capture and edit the PERFECT photos, and for the last decade I've been teaching others how to do the same. 
In 2010 I launched a blog. While initially a way of showcasing my work, before long, thousands of people were visiting, asking me how I created the shots and captures displayed. It quickly turned into an education platform. Since then, I've helped tens of thousands of photographers learn advanced Photoshop skills… 
I founded the f.64 Academy – a fully comprehensive "online school" for those wanting to learn how to use Photoshop to create the best-looking photos of their lives.
Today, I'm incredibly excited to invite you to enjoy my latest RAW workflow tools… and in a very short time, you'll be up-to-speed and more crushing Black & White Processing.